June: Men's Health Month A Major Topic Across all Specialties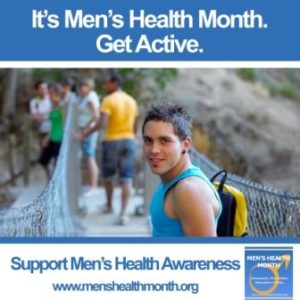 The shift from Celiac Awareness Month, a specific disease regulated to specialists such as gastroenterologists and dietitians, to Men's Health Month, a much broader term, has arrived. We at GANJ have provided our patients this last month with facts, diets, and steps on how to cope with a gluten-intolerance. As the month of May drew to a close, we urged our patients to reach out to us about their condition all year-around. June 1st is here and eyes have turned to Men's Health Month, a month about prevention, check ups, and treatment. The purpose of Men's Health Month is to heighten the awareness of preventable health problems, and emphasize the importance of early detection and treatment among men and boys. Thousands of awareness activities have spread throughout the country over the twenty-two years of dedicated awareness to Men's Health. GANJ is happy, for the first time, to participate on social media and help spread awareness. We will focus on pushing awareness for many gastrointestinal conditions we can not only treat, but prevent.
Colorectal Screenings
The third most preventable cancer, colorectal cancer screenings are atop GANJ's many specialties. Suggested at age 50, colon cancer screenings are the best way to detect early colon cancer, if not prevent it all together.
Hernias
Left untreated, hernias of the gastrointestinal tract can lead to life threatening complications. At Gastroenterology Associates of New Jersey, our experienced physicians use the latest advancements to effectively assess and diagnose hernias related to the gastrointestinal system. With a unique team approach, we work in collaboration with specialists to create a customized treatment plan that meets your individual needs to manage your hernia.
Ulcers
For unknown reasons, ulcers occur more frequently in men. Be sure to see us today if you suspect an ulcer. When an ulcer is left untreated, digestive juices and stomach acid can eat a hole in the intestinal lining, causing excruciating pain that may require emergency surgery.
Reflux
One of, if not the, most common digestive issue is that of reflux. Common in both men and women, acid reflux has many causes ranging from pregnancy to medications to certain foods. Our specialists at GANJ encourage men and women to seek help as this condition can not only be extremely uncomfortable, but serious is left untreated.
To see what other conditions we treat here at GANJ check out our Conditions Page
For more on Men's Health Month check out http://www.menshealthmonth.org/