GANJ Bids a Happy Retirement to a Founding Father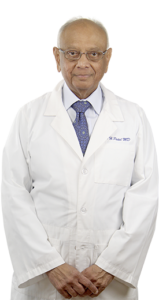 Gastroenterology Associates of New Jersey (GANJ) was in the midst of celebrating their sixth anniversary and annual holiday party at The Brownstone on January 7, 2016 when Dr. George Pavlou took the mic to bid farewell to an old friend, Dr. Subodh Patel.
Dr. Patel, a founding father of GANJ, has officially retired. Though his retirement was effective as of December 1, 2015, Dr. Pavlou felt it was fitting to congratulate, wish luck and say goodbye to Dr. Patel as the whole company gathered for the holiday party. Showered with applause, hugs and gifts, Dr. Patel in return thanked everyone for their hard work at GANJ and wished the practice the best of luck in the future.
Prior to his position at GANJ, Dr. Patel was in a solo private practice for 30 years. He also held 15 various committee and chairman positions throughout his career for St. Joseph's Wayne Hospital. Dr. Patel completed a fellowship, residency and internship in gastroenterology at St. Joseph's Regional Medical Center. He was also a research fellow and a resident in internal medicine at Lokmanya Tilak Municipal General Hospital. In addition, he completed a rotating internship at Topiwala National Medical College & BYL Nair Charitable Hospital and graduated from the University of Mumbai with a Bachelor of Medicine, Bachelor of Surgery degree.
Dr. Ariy Volfson has taken over at Dr. Patel's location at 1031 McBride Ave. in Woodland Park NJ. Dr. Volfson is committed to continuing the quality care that patients expected of Dr. Patel over the years. He also looks forward to building new, strong and positive relationships of his own with the patients who visit the location.
The physicians and staff GANJ profoundly thank Dr. Patel for everything he has done for the practice, the patients and his community over the years. He will be missed.